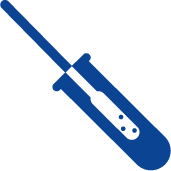 COVID-19 Information
On this page you will find information about what to do if you test positive for COVID-19, or if you have been in contact with someone who has tested positive.
When someone tests positive, this has consequences for the members of their household and their close contacts.
Household members live in the same house as the infected person. They share spaces such as the living room, bathroom, kitchen or bedroom.
A close contact had contact with an infected person and was within 1.5 meters of that person for longer than a total of 15 minutes in a 24-hour period.
It is also possible to have high-risk contact with an infected person. This means kissing, hugging, shaking hands or being coughed or sneezed upon by such a person.

If you would like to make an appointment for a test, call toll-free 0800 0800. This number may be reached from Monday to Saturday from 8 a.m. – noon and from 1 p.m. – 8 p.m. and on Sundays from 8 a.m. – 4 p.m. People with a foreign number may call +599 715 5399, but this number is not free of charge.