Kralendijk – Dear People,
Now that the number of people infected with the virus remains low, we may continue to ease the rules as stated in the current emergency ordinance. We can go from level three; Threat, to level two; Concern.  Some changes have already been introduced, for example that establishments in the hospitality sector and casinos may close later. Another change is that our designation code has changed from orange to yellow.
Before I start listing the other changes, I would like to say the following. This week another case of coronavirus infection was detected. It is good to take into consideration that now that more people can to travel to Bonaire, we may also see more cases of infection.  We should not think or hope that we can remain infection free. This is not realistic.
We will have to get used to the fact that it continues to be important to keep the virus under control. We must not forget that we are well prepared. We have already proven that we can do it. We will experience times on Bonaire with a few and with many COVID-19 cases, and also times with zero cases of infection.
As a society we will have to get used to adapting to different situations at different times; sometimes with strict rules and sometimes with milder rules. For our part, we will ensure that the changes are not too drastic or extreme. For your part, I am counting on cooperation and adherence to the rules.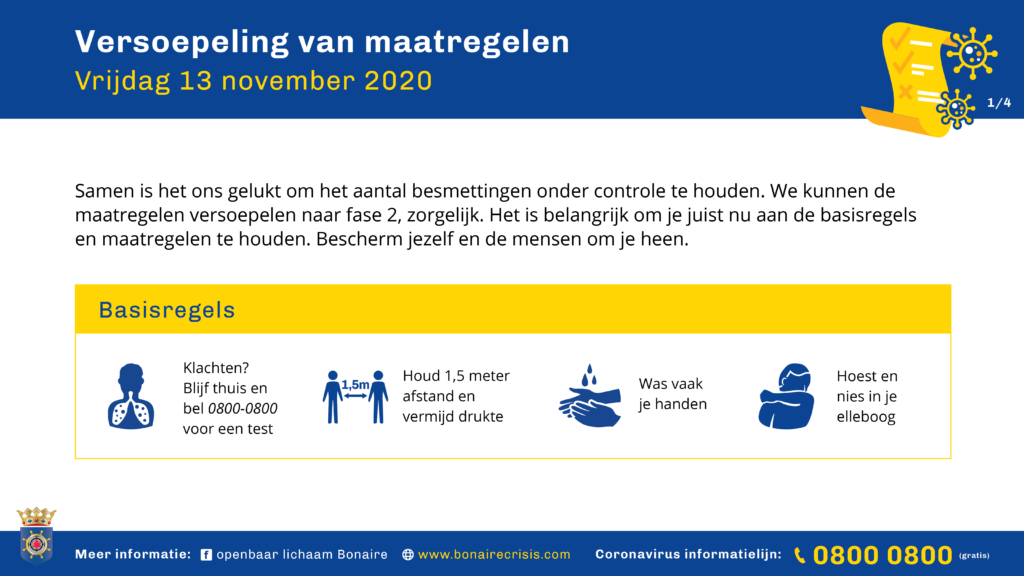 Now, I would like to talk to you about the coming changes.  These changes are regulated by the new emergency ordinance, which will come into effect on 16 November of this year and will expire on 1 December of this year.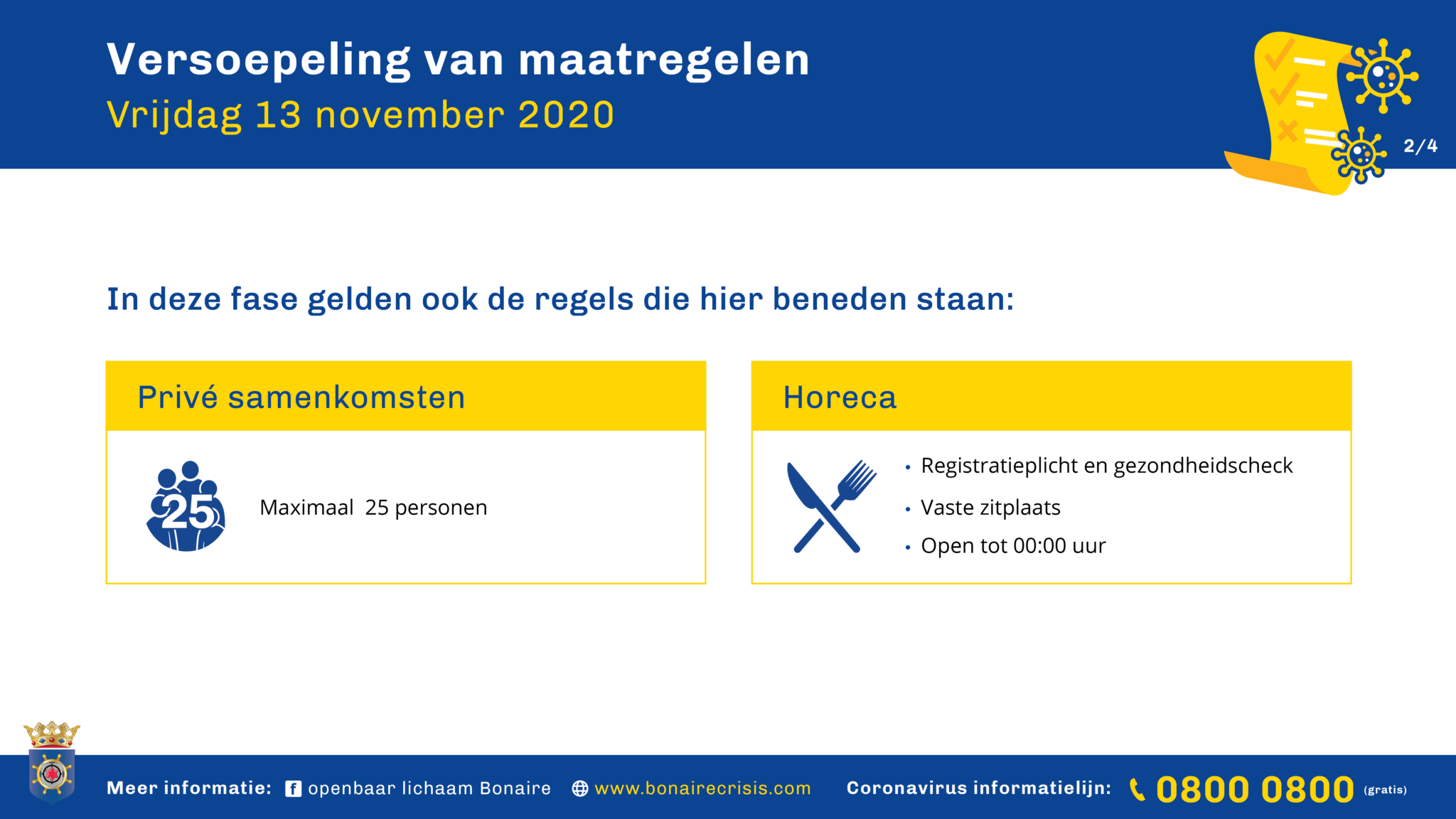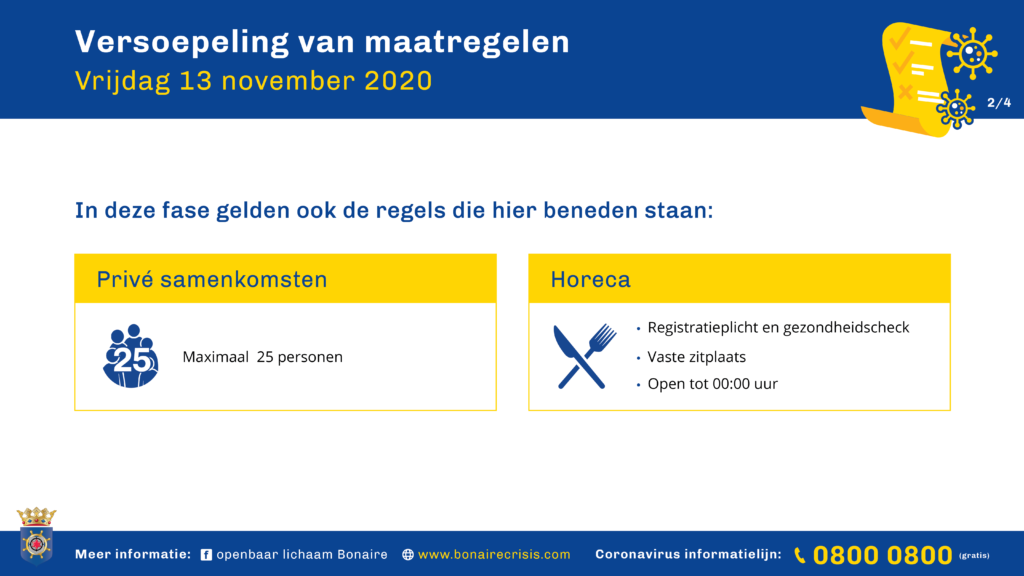 At a private event such as at home, in a public space or on the beach a maximum of 25 people may be present. It is possible to organize events again, but provided that a maximum of 50% of the location is used and that no more than 50 people are present. Registration is mandatory for every attendee. During an event it is not allowed to sing or dance.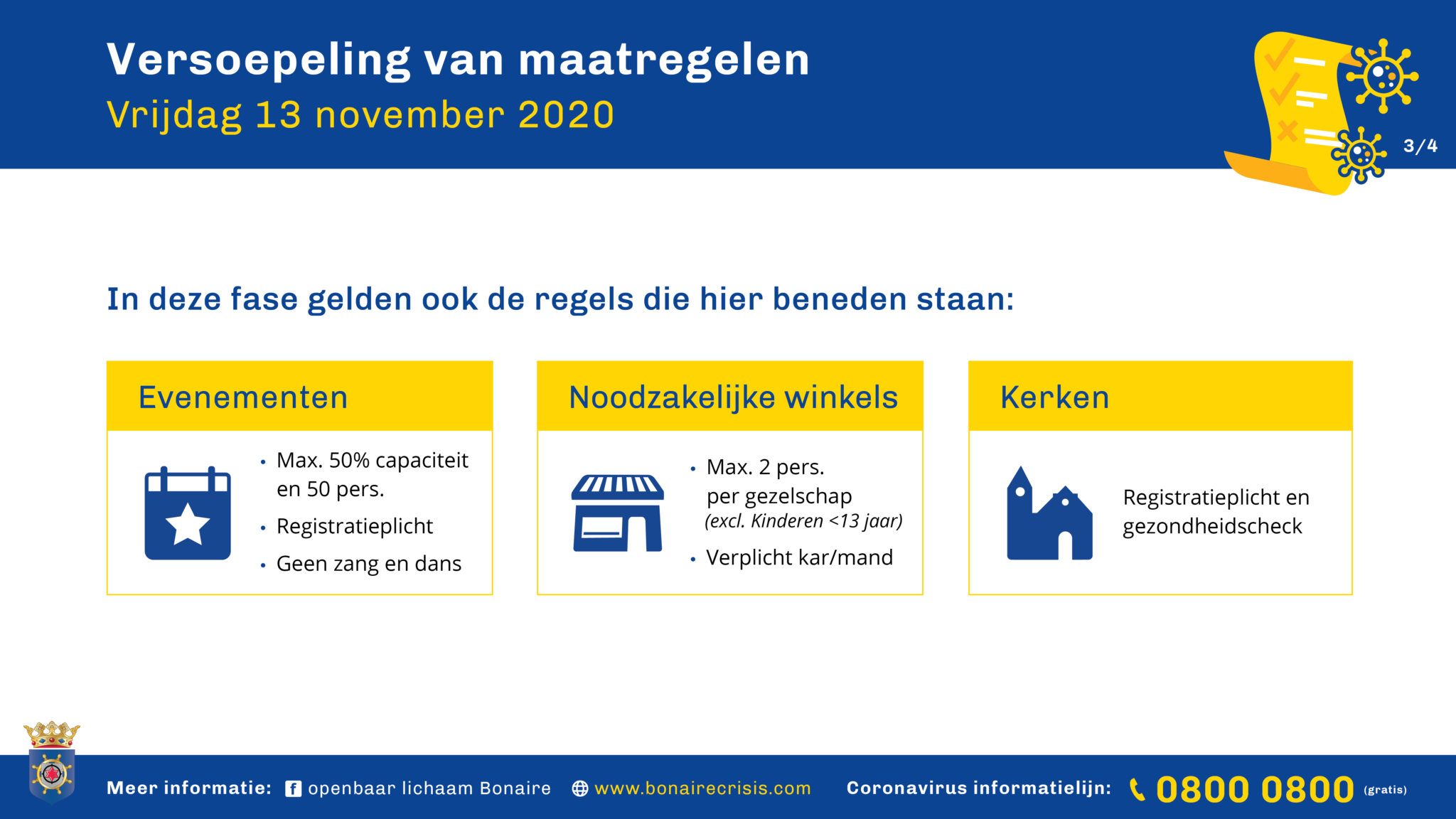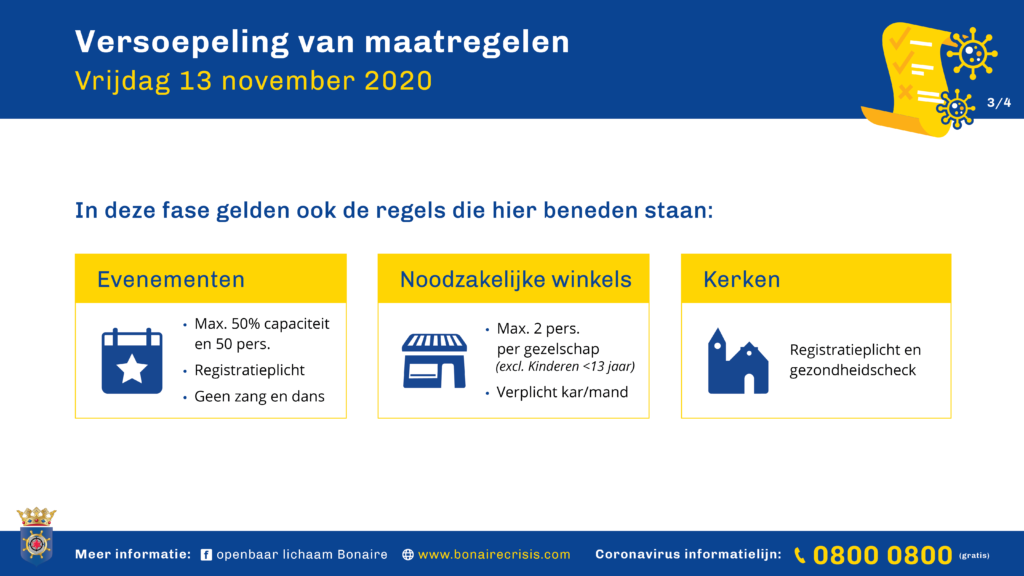 In places such as casinos, saunas and in the hospitality sector all visitors must register at arrival and answer several questions about their health. In the hospitality sector all guests must sit in fixed seating. The establishments may remain open until midnight. Casinos are allowed to open at 6 p.m. and must close at 2 a.m. From midnight on casinos are not allowed to serve alcoholic beverages.
Church services and masses may be held again as long as sufficient distance is kept. Singing is allowed. On arrival churchgoers must meet the same registration and health-check requirements as guests in the hospitality establishments.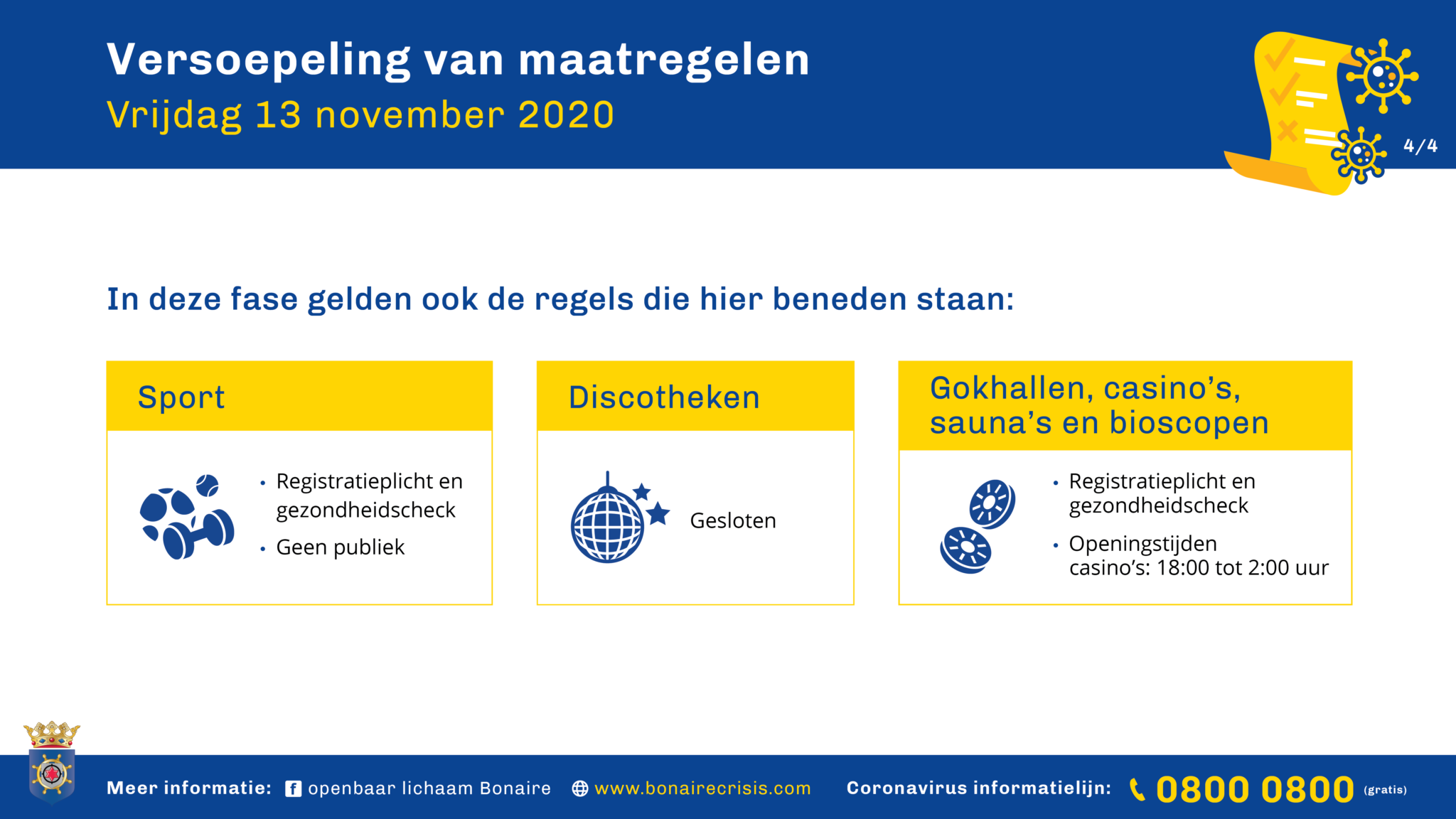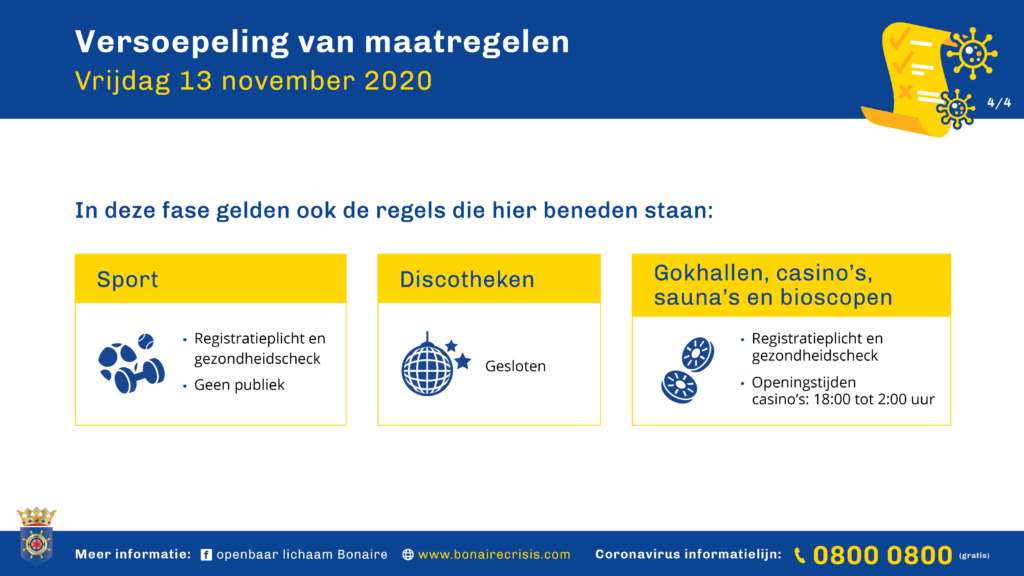 It is possible to organize sports events again, but without spectators. In case of indoor sports, all those present must be registered and must answer a few questions about their health before the event starts. This is not mandatory in case of outdoor sports.  We are still talking to the sports organizations to see whether we can find a responsible way to make it possible for spectators to be present in the near future.
While we advised everyone to preferably work from home, it is now possible to work from the office again. Employers must, however, ensure that they adhere to the Public Health Department's rules and measures. One of these rules is that the workplace must be aired twice a day.
There will be a maximum of seven KLM flights and four TUI flights from the Netherlands every week. There will be six flights a day from Curacao to Bonaire throughout the week. All passengers who travel to Bonaire on a normal flight, on a private airplane or who come by boat must undergo a PCR test no earlier than 72 hours before departure. The result of this test must be negative.  All passengers must also complete a health declaration form. This form may be filled in on the website:  www.bonairepublichealth.org.
Passengers from Saba and Sint Eustatius do not have to undergo a PCR test, but they do have to complete the Public Health Department's health declaration before their departure.  Direct flights from the United States are not permitted until 1 December. We hope to restart direct flights from the United States from 1 December onwards.
Finally, I would like to ask you something. We are all planning and preparing to celebrate the holidays with our family and friends. Let us all consider how to do that while respecting the rules. Let's not forget nor ignore the basic rules during the holidays. We would not want to have an outbreak at the beginning of a new year. I hope we will all be able to start the New Year in good health.