In March and April we saw the last major peak of infections on Bonaire.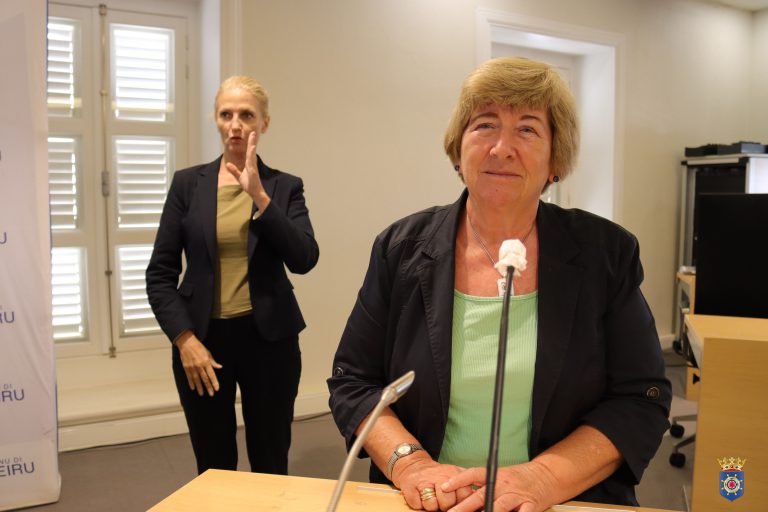 This schematic shows the downward trend from April onwards. In May and June, very few people tested positive. We see that the number of new infections is now increasing again, especially in this last week. Every day we have some new cases.
In most cases, these are Bonaire residents, with a few small clusters, i.e. groups of contamination in the workplace. As you know, we now mainly have the Delta variant of the coronavirus on the island.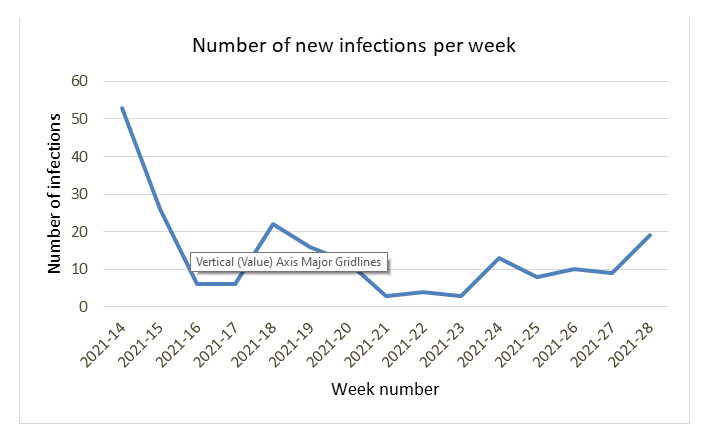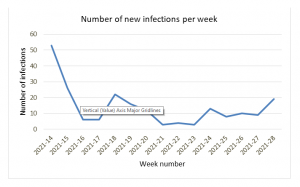 A few people who became infected with the Delta variant had previously traveled to the Netherlands or Curacao. But in most cases it is Bonaire residents who have not been traveling who are infected. Within the group of people who tested positive, several people were fully vaccinated. We already knew that vaccination does not always prevent a person from becoming infected. It does, however, prevent someone from becoming seriously ill. There are currently no patients with COVID-19 admitted in hospital.
Vaccinations are steadily continuing and 80% of the target group of 18 years and older have now received one inoculation while 68.4% are fully vaccinated. This is a pleasing result, but it is still not good enough. It is of great importance that even more people become vaccinated, especially in view of the arrival of the Delta variant. Additionally, it is vital that people who have only been inoculated once go and get their second inoculation. People who have had two shots, and certainly people who have only had one, may still become infected with the Delta variant. So far, however, vaccinated people who became infected have not become seriously ill and have not ended up in hospital.
It is always possible that a family or a group of people who have not been vaccinated, or who have only had one vaccination, become infected with the Delta variant. And if people with fragile health become infected, they are more likely to need to be hospitalized.
It is good that we can now also vaccinate young people between the ages of 12 and 17 and almost 20% of this group have been vaccinated once already. Young people usually do not become seriously ill, but they can sometimes develop long-term health problems. Vaccinating young people in this age group protects them and the people around them. Kompleho Deportivo Jorge Nicolaas is open every Saturday for people who have not yet had their first or second coronavirus inoculation. Next week it will also be open on Tuesday, from 5 PM to 8 PM. For more information, please visit: www.bonairecrisis.com
We cannot prevent small peaks of coronavirus infections from occurring again on Bonaire. But together we can ensure that no or only a few people become seriously ill, or end up in hospital so that we would have to take stricter measures again. So if you haven't been vaccinated yet, go and get vaccinated. If you have not received the second shot yet, go and get it as soon as possible. Parents have your children aged 12 and older vaccinated. The more people are vaccinated, the better we will all be protected.
Keep 1.5 meters distance from each other and adhere to the measures and the basic rules. If you have any symptoms, stay at home and call 0800 0800 for a test appointment.