Kralendijk – We are currently experiencing a major outbreak of Covid-19 on Bonaire, which is mainly caused by the UK variant of the virus. The two previous outbreaks in September 2020 and January 2021 were minor compared to what is going on at present. The outbreak started at the end of February and from that moment on infections have been progressively spreading all over Bonaire. The virus is now present everywhere in our society. People are becoming infected at work, at home and within their circle of friends.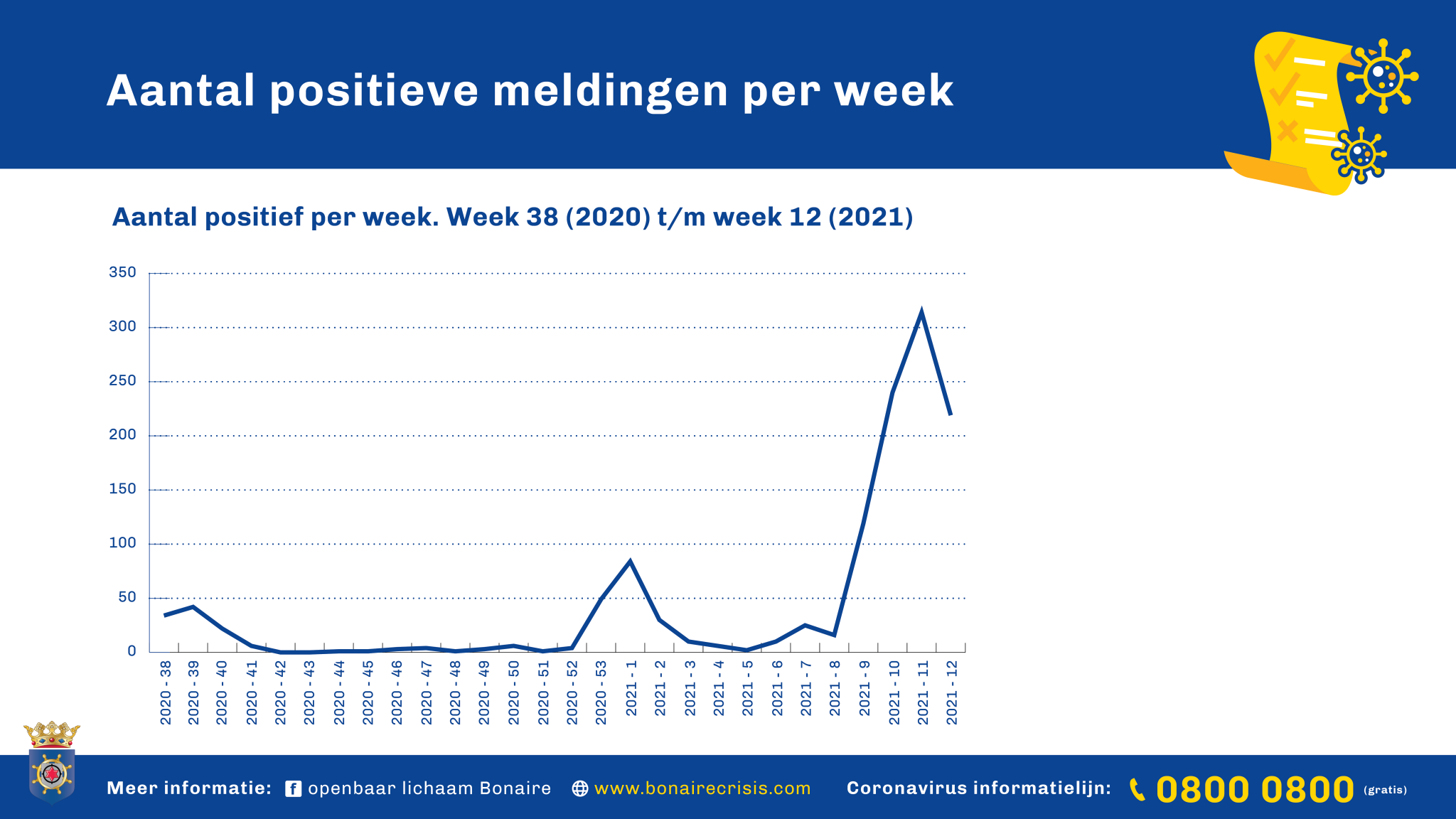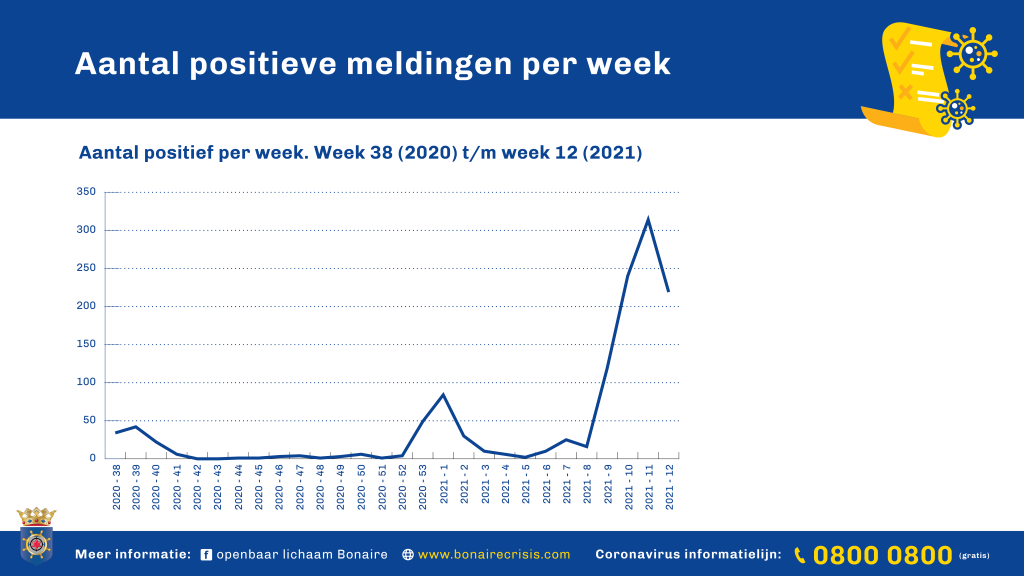 On the left of this graph we can see a small peak in September 2020 and then a larger peak in January 2021. At the other end we can see the large outbreak in March 2021. On the right side of the graph we also can see a slight downward turn as there have been fewer positive test results this week.
This is predominantly caused by the fact that less people have been tested. We are hoping that, even if more people are tested, this line will continue to go down. Only then will we know for certain that we are heading in the right direction. So, if you have any symptoms at all, please get tested. We still have a long way to go!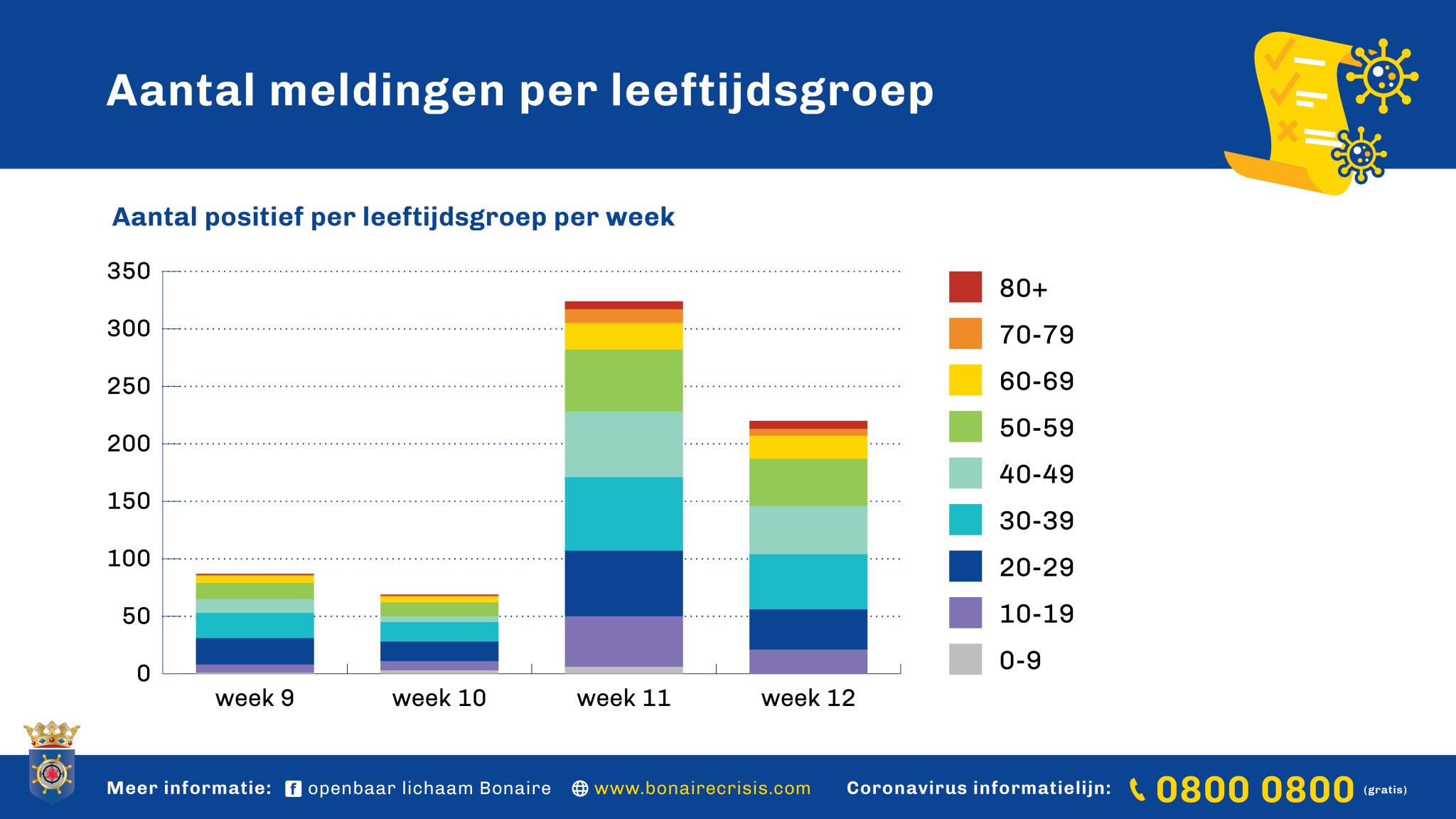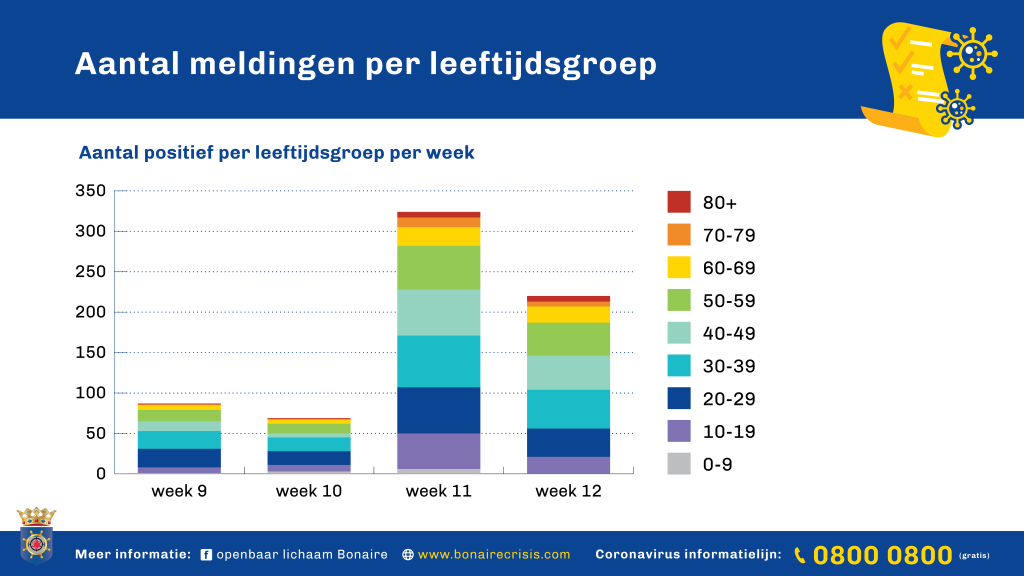 At the beginning of the outbreak, in early March, mainly younger adults between the ages of 20 and 40 were affected. As the outbreak progresses, we are observing that the virus is spreading within families and at work. In addition, teenagers and a few children are becoming infected, but the numbers are especially rising in the group of people between the ages of 40 and 60 years. The number of elderly people who are infected is lower, but the consequences for them are many times greater. It is usually observed that a few weeks after the start of an outbreak, hospital admissions go up. This happened on Bonaire as well. The number of hospital admissions is high and continues to rise. The hospital can only handle a limited number of patients and the hospitals in Aruba and Curacao are already full of their own patients. This is why patients are now being transferred to Colombia, where they are receiving the necessary care. Sadly, seven people have died with Covid-19 in the last month, and they were not all elderly people. We would like to extend our condolences to the relatives.
Currently there are two ways out of this troubling situation. The first is: adhere to the basic rules, keep your distance, stay at home, stay away from groups of people, wash your hands and get tested if you have symptoms. View anyone you meet as someone who may be infected and keep your distance. This is rule number one. The second is: get vaccinated as soon as possible. It is very important that we vaccinate everyone and especially our elderly, as soon as possible. If you are 60 years of age or older and you have not yet registered, please do so immediately. Vaccination does not completely protect you against infection, but should you be infected, you would not become seriously ill or you would be less seriously affected by the virus. If you are younger than 60 years of age: register for vaccination and take your father and mother, grandfather and grandmother, uncle and aunt with you. Only by vaccinating as many people as possible can we get out of this worrying situation. So join in, sign up: ban bakuná!